A simple yet powerful platform that dramatically improves workplace effectiveness through better relationships and measurable behaviour change.
We believe in the powerful combination of authentic conversation, technology, and insight-driven data. At LeadershipMind, we don't just talk about behavioral change—we track it using our Actionable Conversations™ platform.
Through our partnership with Actionable Conversations – an innovative platform in the learning & development space that dramatically improves workplace effectiveness through behavior change, for the leader, team members & the organization. LeadershipMind Consulting can customize a development solution for your organization by leveraging over 40 Actionable Conversations.
Why your organization needs Actionable conversations
Did you know…
Just 13% of all employees are engaged at work.
63% are disengaged
24% are actively disengaged *
*Gallup 2013 study on the State of the Global Workplace looked at employee engagement in 142 different countries.
These stats matter to you because your employee engagement is directly linked to your company's bottom line—employee morale and productivity, customer satisfaction, and profitability are just a few of the business metrics affected by whether or not your employees are engaged. Click here to learn about "The ROI of Better Conversations."
The good news is that you can improve engagement much more easily and much more affordably than you ever imagined.
Engagement is about relationship. It's about the connection your employees have with you, with each other and with the work and values of you company. Effective working relationships is the secret ingredient that distinguishes successful companies from ones that struggle with constant re-orgs, employee turnover, absenteeism, and failed goals. Studies show that the main reason employees leave organizations is dissatisfaction with the relationship with their manager and/or their peers. You can do something about that.
A simple equation that adds up to better business
We can help you have better and more frequent conversations with your peers and employees.
Better conversations= better relationships,
Better relationships = higher engagement
Higher engagement = better business results.
Watch Actionable founder Chris Taylor break it down in this video.
Actionable Conversations™ focus on these six core principles and allows you to choose sessions that specifically address your team's unique workplace challenges and areas for growth within the six competencies on the pyramid.
Take a tour of how the actionable process works.
With each Actionable conversation you'll get: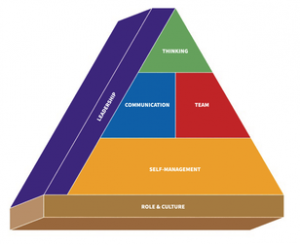 An easy to use, structured guide for holding a 1 hour conversation with your team
A short video and easy to use leader notes that guides you through what you'll say and the questions you'll ask to get your team thinking and talking together
5-minute prep material for everyone on your team
On line accountability engine to drive measurable results after each conversation
With Actionable's low cost and "Leader-led" approach, organizations can provide year-long professional growth programs for every single person… typically for only a couple hundred dollars a head. https://conversations.actionable.co/impact/
Browse our catalogue to view all 40 Actionable conversations
Interested in trying out an actionable conversation with your team? Let's get started!